Jewish World Review March 31, 2004 / 9 Nissan, 5764
Morphing of terrorist image
By Abe Novick
The free world may be under attack, but we continue to give evil men a "mystique"
http://www.jewishworldreview.com | When in 1778, John Paul Jones attacked British ships, he was called a pirate. Today, he would be considered a terrorist.

Like so many modern-day terms, the word "terrorist" is attributed far too widely. From Yasser Arafat (winner of the Nobel Peace Prize) to Osama bin Laden and the D.C. snipers, it has been predicated upon a variety of types.

It was more than 30 years ago in 1972 that the world witnessed one of its first up-close televised human (if you can call them that) incarnations. The masked hostage-taker hovering on the balcony of the Israeli athletes' residence during the Munich Olympics is etched in our collective conscience.

However, since then, the image of the terrorist has morphed into a postmodern outlaw. And with that comes a mystique.

"Terrorist" once had a pejorative meaning but has come to symbolize something quite different, depending on who is using it and who is being labeled. From evildoer to freedom fighter.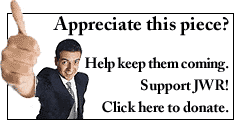 While for Jones, the dastardly image of a pirate was everything he was not (he fancied himself quite a dandy), he also knew the image would not have served him well practically either. A pirate was beneath him. Something to be vilified. The anti-hero.

Today's, perception of a hero, however, is a rocker who rebels against the establishment. In our pop culture, look at the deification of Kurt Cobain, Sid Vicious and the lofty eminence thrust onto Eminem.

All are the offspring of what playwright John Osbourne in his seminal stage creation "Look Back In Anger" captured when he displayed the mood of "the angry young man." Now the anti-hero is the hero.

For those of you only familiar with a different Osbourne (first name Ozzy), a way to get a better picture of "the angry young" man is to think (or rent) Marlon Brando in his quintessential anti-establishment role as Johnny, leader of the Black Rebels motorcycle gang in "The Wild One."

Politically, socially and economically, the anti-hero has become the poster child for the left. And the image of the rebel has been exploited to promote dissent. Dissent from what? Well ... what have you? Free trade? Corporations? Israel? Globalization?

Political use of the anti-hero image has served leaders of the left well by twisting what Georg Hegel described as a master/slave relationship and using it to win sympathy, approval and, most of all, celebrity.

Take for example the fact that as much as many in Israel, as well as this country, would like to plug a hole in Mr. Arafat's kaffiyeh, we realize he would become a martyr the second he was shot. He would then live on in infamy. Nothing would serve him or his cause better. So his opponents hold fire. Meanwhile, his celebrity persists, and he uses it to his every advantage.

Mr. Arafat and others of that ilk understand this trick all too well. They know that while everyone loves a winner, everyone — especially those on the left — loves to root for an underdog.

The trick is to remain an underdog. For as long as you remain an underdog, you'll always have a base of support to draw on.

Jones sailed during the 18th century and was a hero by being true to himself. By the time the 19th came, Hegel influenced Karl Marx. Twisting Hegel's philosophy, Marx planted the very poisonous notion of a slave mentality into the proletariat's mind and strategized the eventual revolution. Those working-class heroes, many of whom were the disaffected and susceptible angry young men, believed his lies and turned to rebelling against authority.

What we see today is a chic glamorization of that rebellion. The terrorist is the extreme incarnation of it — an inversion of the hero into the anti-hero. It's a role pop culture emulates and that infects us today.
Every weekday JewishWorldReview.com publishes what many in Washington and in the media consider "must reading." Sign up for the daily JWR update. It's free. Just click here.
JWR contributor Abe Novick is senior vice president for Eisner Communications in Baltimore. Comment by clicking here.
© 2004, Abe Novick