http://www.NewsAndOpinion.com | Apple's new iPod Mini, retail price $249, evokes in me a feeling not unlike that of actor Bill Murray in the movie "Groundhog Day," awakening to repeat a soon-familiar cycle all over again. I've been here before: The Mini, after all, is a digital music player like its larger siblings. The device holds only 1,000 songs, or thereabouts, on its 4 gigabytes of memory, but the interface and software are the same as on the larger, more expensive models.

The key difference is the very small size, which is about that of a credit card, and the thickness of a small memo pad. This product is so small, it settled nicely in a jacket pocket and remained there for a couple of days - I'd forgotten its presence. According to Apple Computer, it's 45 percent lighter and 50 percent smaller than the original 1,000-song iPod introduced in 2001.

But don't let the diminutive size of this new device fool you. The sound that comes out of this device is as big and bold and beautiful as any digital music player out there. It's the perfect companion for a waiting room, long plane ride (battery life is up to 8 hours) or just about anywhere. Optional speakers can make this one of the smallest stereo systems in the world; play it through your car stereo and you can drive from Washington to Providence, Rhode Island, and perhaps never hear the same song twice.

All this recalls experiences with earlier iPods, and all of this explains why the iPod is rather unique. Other music players offer digital listening, but are often larger, clunkier and otherwise less inviting than the iPod. Those others may be suitable to some; a friend just swapped out one hard drive for an 80 Gigabyte drive in his music player, resulting in a gigantic library that's thoroughly portable.

But for those wanting not only music and portability, but also style and panache, there's no equal to the iPod. Its sleek design is a marvel that can be operated with one hand. Its sound, through stereo headphones or via connector to a car stereo, is, as I said, astonishing. And all of it comes in a tiny package that reflects tremendous care in design.

Fortunately, the iPod Mini will work with both Windows PCs and Macintosh computers; since Apple offers iTunes software for both platforms. This also gives users access to an online music store whose library is huge, and growing.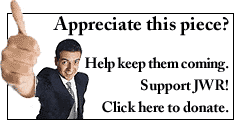 I tested the iPod Mini with a Power Macintosh and my already-loaded library of music. The Mini filled up almost instantly, until I trimmed the playlist to items in which I was interested; after deleting the old three-and-one-half gigabyte playlist, the new roster of songs took up about 750 Mbytes, leaving plenty of room for new tunes. You might want to spend some time with iTunes before loading up songs, but if you forsake the "automatic synchronization" mode for manually selecting the playlists and songs you want to transfer, you'll be able to customize the device quite well. iTunes is a rather flexible program that's well worth having on any computer.

And what sounds those tunes conveyed: somehow, I find new trills and nuances in even familiar tunes when heard through the iPod Mini's headphones. There's no distortion, and the volume control is super-responsive to the touch.

There are a wide range of accessories for the iPod Mini, some of which are on the device itself, such as programs to transport contact names, calendar items and text notes, although loading each of these will cut into your available music memory. Externally, there's an armband to hold the Mini in place while walking or jogging, and other accessories that'll make the connection with home or car stereos, or even record voice notes, again the latter at the expense of music space. (However, the prospect of a digital audio recorder this small has its appeals.)

All this is why I invoked the image of "Groundhog Day" star Murray in talking about this product. In this new, smaller size, it's easy to imagine one rediscovering the joy of the digital music player all over again. Sometimes, it's nice to repeat an experience. Details on the iPod Mini can be found at www.apple.com.
Find this column useful? Why not sign-up for the daily JWR update. It's free. Just click here.
JWR contributor Mark Kellner has reported on technology for industry newspapers and magazines since 1983, and has been the computer columnist for The Washington Times since 1991.Comment by clicking here.