Jewish World Review March 16, 2004 / 23 Adar, 5764
Murder at the Hague
By Carrie Devorah

The author, a photojournalist, is used to covering the news. When the skeleton of the bus her brother was murdered on was recently brought to the Hague, she became the part of the story.
http://www.jewishworldreview.com | I stunned a colleague by telling him that I was flying to the Hague. This was not a social trip. Yechezkel "Chezi" Goldberg, my brother, was the first Canadian murdered in a pigua in Jerusalem. Chezi's bus, as I have come to call the Number 19 Egged his life ended on, was going to be in the Hague's town square opposite the International Court of Justice while Israel's right to ring Israeli citizens within a safe security fence was being debated. I would be there for my brother.

Chezi's friends began emailing me days before the Hague trial was set to begin. "You must go, Carrie." Christians for Israel was flying Chezi's bus to the Hague to illustrate that bomb murdering must stop. I booked my flight Thursday. Confirmed the hotel on Friday --- and then began packing my funereal basic mourning black wardrobe.

Fearful of flying, I was, nonetheless, off. I was going for one person. No mission. No bully would stop me from being our family's shomeres, guardian, of our brother's honor in what would be a politically charged protest.

The United Nations Assembly delegated the International Court of Justice to render a non-binding opinion on Israel's life preserving fence that, though not even completed, is already providing its residents increased safety and security from terrorism.

The Cypriot clerk at my hotel said the UN's position on Israel's fence is hypocritical. The UN erected a security fence in Cypress, separating Turkish and Greek Cypriots. That was one of the first of things I learned in the Hague that the world press does not discuss. Enemies of Israel- Cuba, Colombia, Mongolia, Jordan- were deciding the fate of 6 million citizens of Israel, in the Peace Palace, as the the International Criminal Court is nicknamed. It's directly across from a pillar and stone sculpture, the Hague's memorial to 6 million Jews murdered in the Holocaust.

Left. Right. Live. Die. The world is not crying out now. Maybe it's because anti-Semitism is alive and well in the Netherlands, sixty years after humanity's Bermuda Triangle. Before, there was no Israel. Just Jews. Now the home for Jews, Israel, is the Achilles heel of America. It is what terrorists are striking at.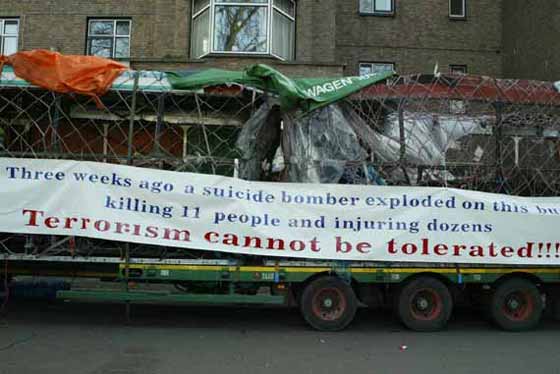 The shell of the bus Chezi Goldberg was murdered on
Photo by author
My brother's friend begged me to leave my cameras at home. "Mourn, Carrie," he said. I can't. If I let myself fall into sorrow, I will break into pieces that will never be able to be put back together again.

Camera gear is in my backpack when my brother's bus arrived in Hague Square, Monday morning. Tears are streaming down my cheeks. I'm leading the silence. It is here that Chezi's murder on Aza Street became real for me.

Always behind camera, lenses were now trained on me. I did not disappoint picture editors. Sobs shook my body. Realization hit Israeli victims. The "put-together American lady from D.C." was falling apart, was still in mourning for her brother. I was now one of them.

ZAKA volunteers showed me where Chezi sat. ZAKA's corps are volunteer Orthodox Jewish men who come together to gather bombing victims body parts for burial. Chezi was their real life friend. They told me Chezi knew he was a dead man commuting. They showed where the blast scattered his body. ZAKA's men cried with me.

I knew where to take media. I showed them Chezi sat right behind his murderer. Chezi saw Ali Jarah murder him. I stood by Chezi's bus, showing media ZAKA's One Way Tickets for Eged buses. I showed the world this is where my brother sat. This is where his murderer sat. I pointed to a picture of Chezi five months and three days earlier in Jerusalem with New York Mayor Michael Bloomberg. Bloomberg said he was showing solidarity to Israelis who ride buses. And here are two pictures of Chezi's body after Ali Jarah murdered him. What was that question? No, NY Mayor Bloomberg has not issued an official statement about Chezi's murder.

I tailored media bytes to cultures. With British journalists, l talked about Northern Ireland's Shankhill Road wall, the fence around Buckingham Palace and Barshak breaking security at Windsor castle.

With the Los Angeles Times, I talked about gated communities- Malibu. Calabassass. Rancho Mirage. Bel Air.

With Canada's Globe and Mail, I talked about speed bumps in residential communities forcing drivers to a crawl.

And with the Washington Post, I talked about cement barriers and one armed bandits outside the White House.

Asked about Palestinians struggling to make a living, I talked about Jews struggling to make a living. My brother was working three jobs to make ends meet for his seven children. There is no one to provide for them now, I said.

My brother's mangled bus, was a grim sermon of humanity's charred heart. No wall means genocide, killing a race --- the crime Winston Churchill says has no name.

That is something the UN is familiar with. Rowanda. Armenia. Iraq. The Holocaust. Pink Floyd sang "All in all it was just a brick in the wall." Ronald Reagan's "Tear the fence down" is credited with winning the cold war. Now, those words are life or death, a national bloodbath. The wall means life. Three words. Three words. Safety. Security. Defence. Keep good people of all religions, cultures and races alive.

Humanity forgets, 45 minutes away from the International Court of Justice, a fence existed in Germany readying Jews for murder. I comprehended the magnitude of this reality when Christians for Israel members, Johan and Willem Broos toured me through Amsterdam. The brothers, Dutch Christians, told me their grandfather was murdered in Dachau. He was a partisan. The brothers drove me into the Jewish quarter, past Anne Frank's house, now a tourist site. People queued in the rain to see where the teenage Jewess hid until her walls were penetrated. The world did not cry out when the fifteen year old was shipped to her death in Bergen Belsen. The modern world reads Anne Frank's diary as a work of literature.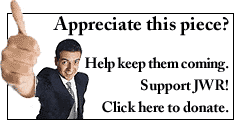 There were two sets of rules at the Hague. One for the Israelis. A second for the Arabs. Chezi's bus was flatbedded in for the Israeli protest. At 12 noon, it was sequestered on a side street away from Arab protesters. KLM counter agent Erik, said, "The police should have left the bus there for the Arab march. Then the world would have seen how they really behave towards Jews." PLO flags were marched through the Hague. A block long PLO flag covered the storybook style cobblestone streets. Arabs screamed "Kill Israel. F--- the Jews. F--- the Jews." PLO protesters carried postercards bearing swastikas, illegal in the Hague. The Arabs built up a symbolic wall at their protest. Why did the Israelis not build their own wall of over 900 faces representing the murdered? Jewish protesters, on nearby monument steps, holding a hand drawn Israeli flag, were ordered out of public sight. Israeli pro flags during their march. Defiantly, they wore them on their backs, superman style.

Netherlands de Volkskrant, Dinsdag February 24, covered the protest. Buried inside Page two was a half page story on White Pride World Wide, stormfront.org. Page One pictured a group of Jews marching with the PLO. Jews are our own worst enemy. At the Hague, the battle Israelis lost was that of PR. We murdered our own people at rope ends of semantics not semitics. I watched on European TV how the Arab press machine, fronted in DC by PLO's English speaking legal beagle red hot Donna Butto, steamrolled over the Israeli Foreign Ministry, neophyte at understanding Western Press.

In, out, good, bad, I guess fences are all relative to which side you are standing on, and what one's intent is. The Palestinians, cite the wall undermines "the prospect of a viable Palestinian state," declaring in an attempt to avoid a $116 million Florida judgement for a Hamas attack, they are a sovereign state. Isn't that what Palestine alleges their murderous battle is for. Statehood?

I declare. War over.
Every weekday JewishWorldReview.com publishes what many in Washington and in the media consider "must reading." Sign up for the daily JWR update. It's free. Just click here.
Carrie Devorah is a Washington, D.C. and Beverly Hills -based photojournalist. Comment by clicking here.
© 2004, Carrie Devorah