JERRY OFFSAY IS BUSY working the room. There he is schmoozing with Marg Helgenberger, lately of China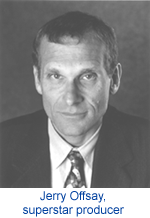 Beach. Judd Hirsch, F. Murray Abraham, and author Elmore Leonard all receive dollops of the Offsay charm.
It was a bright afternoon earlier this year when the Rainbow Room atop the General Electric building in Rockefeller Center became Hollywood East. Offsay, president of programming for Showtime Networks, Inc., has come to New York from his base in Los Angeles to announce about six months worth of original programming to a roomful of television industry media people. Parceled out among the reporters are the stars and directors and screen writers, who have come to help promote their various projects.
Because he controls a big budget, Offsay is a showbiz powerhouse. Though not massive by the standards of a major studio, which can blow $200 million-plus on one motion picture, he has enough dollars at his disposal to finance several original series as well as over 50 films a year. Some are kung-fu-fighter-action trash or the late-night R-rated softcore porn that made cable famous.
But there are also a surprising number of quality productions:
The Twilight of the Golds (based on the Jonathan Tolins play about the way in which a family copes with the possibility of a gay child being born); In the Presence of Mine Enemies (a re-make of the Rod Serling Playhouse 90 drama set in 1943 Warsaw immediately before the ghetto uprising); and three two-hour films produced by Barbra Streisand under the generic heading Rescuers: Stories of Courage (about gentiles who risked their lives rescuing victims of the Holocaust).
Later, as the room empties, film and TV director Jeremy Kagan (he won an Emmy for Chicago Hope and directed the theatrical film The Chosen), comes over to say good-bye to Offsay. Seeing an interview in progress, he turns to a reporter and says, "Showtime is the only place taking chances," prompting a big and knowing smile from Offsay.
Offsay loves what he's doing. In a meeting with the same reporter a few months earlier, he complained about a cold, his heavy travel schedule, which was starting to wear him down, and his inability to push through a deal for a major motion picture he wanted to see produced. Then he caught himself in mid-kvetch and admitted he's left strict instructions with both his assistant and his wife, the gist of which is: if I complain about this job, please hit me.
The truth is, what's to complain about? Though it's just a few miles away, even on a clear day you can't see the Bronx, where he was raised. On the one hand, that seems appropriate; the world he inhabits now is light years away from Parkchester development where he was raised. But the truth is that Offsay has brought his Bronx sensibilities with him -- to his home in Los Angeles and to his job at Showtime.
Consider that Offsay, who attended Hebrew school for five years and for four-and-a-half-of them had an extremely good attendance record at junior congregation (30 out of 52 weeks), sends his four children to Hebrew day school, where they spend seven-and-a-half hours each day--five on secular studies; the remainder on Judaica.
"In Hebrew school," he explains, "I got a lot of the historical and cultural. What I didn't get was the ethical, and I wanted my children to get that. I also wanted to get them away from the materialistic bent some of the private schools in Los Angeles."
While he laughs at the idea that Jews control Hollywood -- "That's a most absurd notion," he contends -- he is extremely candid how his being Jewish affects the films he makes, the actors he casts and his views of the way Jews are portrayed in Tinseltown. Ethics, the need to do the right thing, even tikkun olam are expressions that pepper his conversation.
For example, Offsay says he was heavily criticized by some for the Showtime movie Critical Choices, which presented both sides of the abortion issue, including a sympathetic portrayal of right-to-lifers. "There are pro-life people," he says, "who are good decent people, get up on a Saturday morning, but, instead of taking their children to a soccer field, set up a card table outside an abortion clinic and quietly try to proselytize people. They think they're saving people from atrocities akin to gas chambers...
"There are no blacks and whites in real life. That's what I get from my background. To put myself in somebody else's shoes. To be able to see things from their perspective. That informs everything we try to do."
That is not the only way his Yiddishkeit affects his and Showtime's outlook. "I think we try and do day in and day out good, dramatic storytelling about real people and real-life situations. I don't think we're Pollyanna when we do our films. The good guy doesn't always win, because that wouldn't reflect the reality of the world. But especially when it comes to kid's films, we like to do something that has a strong moral compass to it, that shows good will triumph and evil will be punished, that there is a right and a wrong in the world and doing the right thing counts for something."
His Judaism has come up in other ways as well. There have been instances where he has been presented scripts in which Jews are portrayed negatively where he has chosen to pass on the film. "I didn't want to make that sort of negative story about a Jewish person. I can remember that entering my thought process at the time. It's happened two or three times, where I've said if someone is going to take that, let it be somebody else. I can't stop it from being made, but I'm not going to be the person who brings it forth."
In a similar vein, he mentions a Showtime film -- he asks that the name not be printed -- in which the director was planning to cast an "identifiably Jewish character" in the patently villainous role. "I didn't want a Jewish guy playing such a virulently hateful character," Offsay admits.
Generally he has no feeling, one way or the other, about the manner in which Jews are portrayed in the media. "That's a broad question," he says. It's all over the lot. Look at Judd Hirsch's character in Independence Day. There were people who were furious about it, saying he was just a caricature of the little Jewish man. And then there were others who were thrilled that they had the guts in this mainstream commercial movie to show a little old Jewish man, what he believed in, what he thought."
Offsay has mixed feelings even towards his own Twilight of the Golds, in which a Jewish family is conflicted about what to do when genetic testing reveals that the patriarch's first grandchild, still a fetus, carries genes that indicate a propensity to homosexuality. It was an extremely well-drawn drama, and showed the Golds warts and all.
"When their warts were showing, I said I wish these people were anything other than Jews. I have reservations, with all the antisemitism in the world, showing Jews with warts on them, because people of a certain mindset could say, 'ah, that's the way Jews are,' and draw generalizations. The flip side of that is that we ought to be able to honestly portray all people, their pluses and minuses."
Offsay is a fan of Paul Reiser in Mad About You and Jerry Seinfeld, both obviously Jewish characters, a side of their personalities they rarely if ever deal with. "I can't remember an episode where they did, and probably they should," he says. "If you're being true-to-life, it comes up no matter how you may distance yourself."
In truth, he says, religion of any kind is hardly a factor on television. Other than Christmas episodes, there's no hint of religion of any other people. No one talks that they went to church on Sunday or Jews going to temple. It's just not there."
Offsay was the third of four children. His father operated a small point-of-purchase display design company and painted on weekends and his mother was the company bookkeeper. Their son was not only precocious, but bright. He attended the prestigious Bronx High School of Science, and, after college, Columbia Law School. It wasn't until law school that he showed any interest in films. A summer working at a Los Angeles firm that had an entertainment law practice convinced him.
He joined that firm after graduating, and, though made a partner at age 28, decided his future lay elsewhere. He worked first at RKO and then at ABC productions, the latter an opportunity to do "post-graduate training in television... the best four years I could have spent in terms of understanding the business. I learned what people respond to, the difference between a good script and a bad script."
He discovered that broadcast networks had largely abandoned the intelligent two-hour film. "If it was exploitative, if it was a true-crime with a somewhat tawdry element, we thought we had a good shot at selling it to one of the [broadcast] networks. If it required a little more thinking, if it was a little less obvious entertainment, then we knew we weren't going to be able to sell it to one of the networks.
"We did at ABC Productions the highest-rated of the three Amy Fisher movies. But the amazing thing is that all three networks bought the Amy Fisher story."
So when the opportunity to move to Showtime came up, Offsay saw it not only as an opportunity to move from seller to buyer of product, but a chance to produce more and better films. At the time, Showtime still relied almost exclusively on re-runs of theatricals, had only eight original films on its schedule annually -- hardly the critical mass to get people to sign up for the service.
It wasn't just a power trip. "The whole goal of this programming exercise is to make people feel they're missing something if they don't have Showtime. To do that, first they have to know you exist in this crowded universe that we operate in."
Offsay soon began okaying edgy, theatrical-quality films that are beginning to put Showtime in the kind of rarified stratosphere heretofore limited to competitor HBO. Moreover, he worked out unique deals with producers that allows them to release their films theatrically before or after a Showtime airing.
This is how Jeffrey, a Showtime film, went to movie houses prior to its cable airing. Similarly, several movies -- including Kevin Bacon's widely praised Losing Chase -- were released to theaters after they aired on the network.
Steve Hewitt, who worked for Offsay as executive vice president of the Showtime Entertainment Group and currently is president of Hallmark Entertainment Group, calls it a "brilliant strategy. He had an enormous impact from the moment he came in and took control. He's so fluent in all aspects of original programming, it's extraordinary."
His bosses thought enough of him to sign Offsay up for four more years.
"It is a nerve-wracking business, this network programming." But a memory of his childhood, "something I've recaptured 25 years later," reminded him of where he could find his center:
"I remember the junior congregation being the quietest hour of the week. The time you could most reflect on things. I now find that I go to services less frequently as I did as a kid, but with my son on the bar mitzvah circuit I go about once every three weeks. I find it absolutely calming, an oasis in a world of complete turmoil."
---
Curt Schleier is a freelance writer and author who also teaches writing to business executives. As of this issue, he becomes a regular JWR contributor.