By Cynthia Dettelbach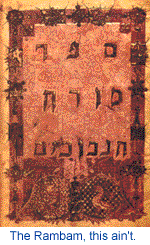 A man's home may be his castle, but increasing numbers of less-than-welcome visitors are getting across the moat. In 1998 terms, the "moat" is the mailbox, and no one is safe, it seems, from the zeal of marketers using purchased mailing lists, the US mails and, by extension, the telephone to hawk their wares or services.
I submit in evidence the following:
A spiral-bound book with the intriguing title, A Guide to the (direct mail) Perplexed: A Direct Marketing Guide to the Jewish Community came across my desk some time ago.
Commercial marketing is not exactly in my line of work, but this publication, produced by A.B. Data, Direct Marketing Services, located in Milwaukee, was rather too good -- or too scary -- to put down.
Not averse to a bit of hyperbole (the title of the book, after all, is a variation on the Guide to the Perplexed by the great Jewish scholar Rambam, or Maimonides), the book describes the core of its guide as the "List of Lists."
These mailing lists of Jews, or at least donors to Jewish causes and consumers of Jewish products, are for sale to anyone willing to pay for them. And to reuse for their own, not necessarily philanthropic, causes.
They are priced anywhere from $60 to $175 per thousand, with one list at least (Affiliated and Active Jewish Donors) promising as many as 443,000 names. At a cost of $65 per thousand, that rounds out roughly $29,000 for the list. And that's for one-time use only.
The lists are nationwide in scope. If you want to target a particular audience by zip code, age, gender and the all important income, you can do so by adding $5 per thousand for each of the above listed specifics. Thus, if you wanted names and addresses of women in zip code 44118, ages 30-35 with an annual income of $40,000 or more, who subscribe, say, to Chocolatier Magazine, you can get those select names for an additional $20 per thousand added to the base price of $75 per thousand.
The Jewish lists in the book are arranged by category. They range from book buyers to educational organizations; human health and social service organizations; political action; Israel-related; traditionally affiliated; Judaic art, theater, gift and merchandise buyers, and kosher consumers.
The last named, in case you hadn't guessed, is home to the Chocolatier's Catalog Buyer with, don't laugh, 53,317 subscribers. Purchasers of the "certified kosher" chocolate confections "care about quality, are upscale and spend an average of $40 per order," according to the guide.
Hands-down winners for the creative list-titling goes to the hands-out group of Jewish donors. There are, for example, separate lists for "Benevolent Jewish Donors," "Cream of the Crop Jewish Donors," "Elite Jewish Donors," "High Dollar Jewish Donors," "Rich and Powerful Jewish Donors" and, my favorite, title-wise, "Gutsy Jewish Givers." The last category boasts almost 278,000 Jewish names and refers to "Jewish women who have supported Jewish places of worship and other related causes" with an average donation of $500. Generous, yes, but why "gutsy?"
In case anyone is interested, there is also a list of 360,000 Jewish buyers of raffle tickets. Don't know what to do with this list? According to the perplexed guide, these are "strongly impulsive buyers of anything bearing on luck or the mystical." Perhaps those in the business of selling Ouija boards or New Age crystals might want to buy that list.
No one, it seems, escapes computer-generated databases these days. That includes:
Jewish decorative art buyers who purchase "upscale decorative art products including hand-painted Southwestern art tiles, Southwestern pottery and other clay and ceramic artwork and housewares. Average purchase: $300."

Second Ave. Deli mail order buyers of, among other things, "hearty pastrami sandwiches." These 30,832 individuals are "upscale, affluent, quality conscious." No indication of how conscious they are of their cholesterol, however. Maybe for an additional $5 per thousand I can find that out, too.

Intellectual cartoon enthusiasts "who have purchased work from one of the foremost cartoonists of our time." Purchasing this list of 4,370 names is surely an act of faith, since the cartoonists name is not even mentioned.
At the High Holidays or any time your mailbox fills up with solicitations from organizations, causes or purveyors you never even heard of or ever thought of giving to or using, know that your name, address and demographic profile is undoubtedly on one or more Jewish lists A.B. Data is already out there selling.
If your reaction is anything like mine, it is a disquieting prospect, indeed.
---
Cynthia Dettelbach is the editor of the Cleveland Jewish News.