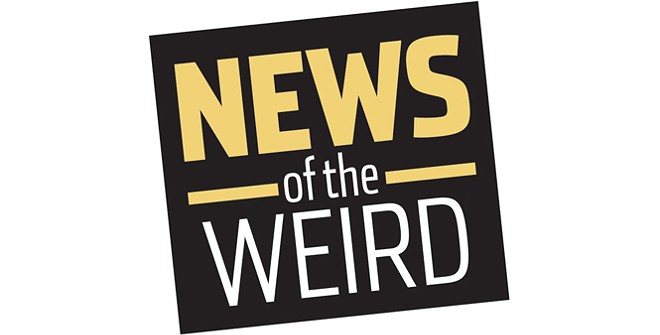 • The Times of India reports that Soni Devi, 20, of Vaishali district, petitioned the state women's commission on Jan. 9 for divorce from her husband of two years, Manish Ram, 23, complaining, "My husband stinks as he won't shave and bathe for nearly 10 days at a stretch. Moreover, he doesn't brush his teeth. He also doesn't have manners and follow etiquette. ... Kindly get me rid of this man; he has ruined my life."
Commission member Pratima Sinha told the Times, "I was taken aback by her silly reasons," but nonetheless, the commission will give the husband "two months' time to mend his ways. If his behavior is not found satisfactory even after that, we will ... refer the matter to the family court for separation."
Manish reportedly promised to mend his ways. [Times of India, 1/10/2020]
• Sauntore Thomas, 44, of Detroit, presented three checks at his bank on Jan. 21 that he had received as settlement in a race discrimination lawsuit against his former employer, according to the Detroit Free Press.
Instead of accepting the checks, TCF Bank in Livonia, where Thomas was an established customer, summoned police and initiated a fraud investigation.
Thomas' attorney, Deborah Gordon, told the Free Press, "Obviously, assumptions were made the minute he walked in based on his race."
Thomas finally closed his existing accounts, left the bank and deposited the checks at a different bank without any trouble.
The next day, Thomas filed a lawsuit against TCF Bank alleging race discrimination and asking for unspecified damages and an apology from the company. [Detroit Free Press, 1/23/2020]