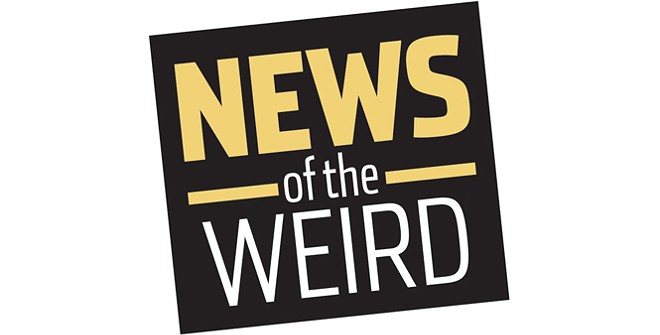 • A mystery was solved on Jan. 22 in Natick, Massachusetts, when police arrested Andrea F. Grocer, 51, of Ashland, on suspicion of defecating in front of the Natick Outdoor Store eight times over the last four months.
Henry Kanner, the store's owner, had reported the incidents to police in December, and officers first thought an animal might be the culprit -- until they found "toilet paper and other wipes," Natick police spokesperson Lt. Cara Rossi told The MetroWest Daily News.
Some of the incidents had been recorded by surveillance video, but police hadn't been able to identify a license plate.
During extra patrols of the parking lot, they spotted Grocer at 6:51 a.m. as she prepared to leave her mark again, police said.
"I have no idea who she is," Kanner said, adding that he knows of no connection she has with the store.
Grocer's lawyer described her as a "pillar of the community." [MetroWest Daily News, 1/22/2020]
• Now-retired high school English teacher Jeffrey S. Churchwell, 60, of Elkhorn, Wisconsin, apologized to Walworth County Sheriff's deputies in October and admitted that he had been defecating, sometimes several times a day, since 2017 outside and on a building in the rural Natureland Park in Whitewater.
The Milton Courier reported Brent Brooks of the Walworth County Highway Shop met with deputies in October about the repeated offenses, which required parks department workers to power-wash and sometimes repaint facilities, on top of picking up used toilet paper.
Trail cameras recorded the man relieving himself, and deputies caught up with Churchwell on Oct. 8. When asked why, he replied, "Stupidity," according to sheriff's office reports.
Churchwell was charged with disorderly conduct and was ordered to pay more than $6,000 in fines and restitution. He was put on leave from the Milton School District on Nov. 25; his retirement took effect Jan. 16. [Milton Courier, 1/2/2020]