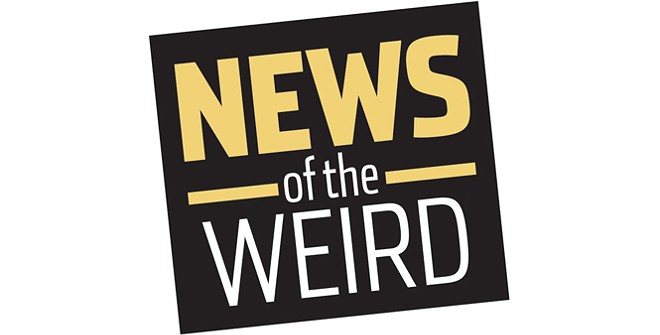 • Matthew Davies, 47, of Dunfermline, Scotland, pleaded guilty on Jan. 17 to assault and robbery in the case of a bumbling Bank of Scotland holdup in September, the Daily Record reported.
On that day, Davies charged into the bank with a meat cleaver in hand and a pillowcase over his head.
Unfortunately, he had neglected to cut eyeholes in the pillowcase and therefore couldn't see -- so he had to take it off.
Undeterred, Davies used the cleaver to batter a glass partition on the counter and eventually took off with almost 2,000 pounds, casually wandering toward home, even stopping to pet a dog along the way.
One brave customer of the bank followed Davies to his home and alerted police; there they found cash and the pillowcase, along with a stun gun.
He'll be sentenced in February. [Daily Record, 1/18/2020]
• United Press International reported that an unnamed man in Orlando, Florida, got a little mixed up as he tried to fill his boat's gas tank before a fishing trip on Jan. 27.
Rather than putting the gas nozzle into the fuel tank, the man inserted it into a fishing pole holder and pumped 30 gallons of gas directly into the cockpit.
Orange County Fire Rescue was called to the 7-Eleven, and a hazmat team siphoned most of the errant gas from the boat before the fisherman filled up the actual tank and went on his way. [UPI, 1/28/2020]