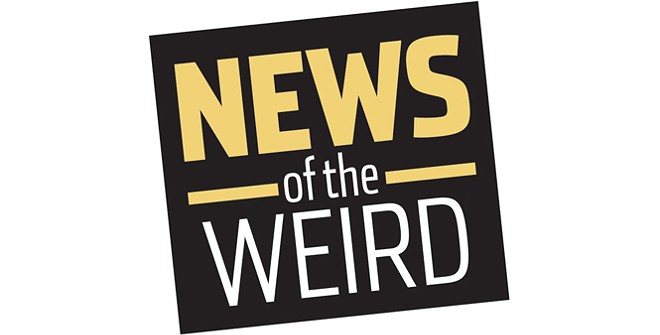 • After numerous complaints going back six months, according to a neighbor, Robert Wayne Miller, 57, was arrested at his home Zephyrhills, Florida, home on Dec. 22 for disturbing the peace with his lawn mower.
Body-camera footage obtained by WFLA shows Pasco County Deputy Michael O'Donnell arriving at Miller's property and calling out to him, followed by a revving of the mower's engine.
"I've had four people come out and tell me that they can't take it anymore," O'Donnell told Miller, who responded, "Whatever," before turning on the mower again.
Dwaine White, who lives across the street, told The Washington Post the mower isn't even capable of cutting grass.
"He'll run that tractor all night, and it echoes all over the neighborhood," White said.
Miller was ultimately arrested for disturbing the peace and not complying with a law enforcement officer's command.
If convicted, he could spend 18 months in jail and pay a $1,500 fine. [The Washington Post, 12/27/2019]
• Downtown Winston-Salem, North Carolina, is a little safer these days, thanks to the efforts of Night Watch, a helpful vigilante dressed in all black, with his face partially covered and wearing reflective goggles, WGHP reported on Jan. 22.
"I'm not looking to be a Batman and go around beating up criminals," he told a reporter. Instead, he's an anonymous superhero who's been patrolling the nighttime streets for about a month, hauling around a bag filled with food, clothing and toiletries for those in need.
"There is no prerequisite for being a good person," Night Watch said.
On that night, he helped out about a dozen homeless people in the community. "It's just nice that people aren't totally freaked out," he said. "Now they know who I am and that I'm trying to help." [Fox8, 1/22/2020]