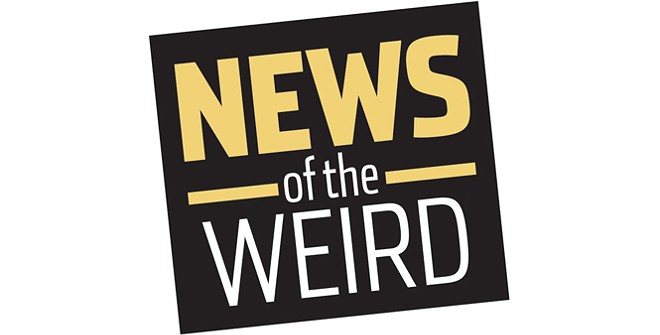 • An unnamed 55-year-old man from the town of Pitalito, Colombia, got cold feet before his scheduled marriage over the weekend of Jan. 18, but lacked the courage to tell his fiancee.
Instead, with the help of his best friends, he faked his own kidnapping, reported Oddity Central.
The groom's pals told authorities they had seen a group of armed men on motorcycles abduct their friend, and because kidnappings for extortion are not unknown in Colombia, the local police responded in force.
Police Commander Nestor Vargas ordered roads closed, sealing off the town, and began a search. That's when the friends got nervous and admitted they'd made the whole thing up.
Authorities kept the groom's identity a secret to protect him from other townspeople, who've been down this road before: This is the second time the groom has left a bride waiting at the altar.
He and his cohorts will likely face jail time of up to six years. [Oddity Central, 1/21/2020]
• If you've always thought those nail clippers in your kitchen drawer were a harmless tool, think again.
Kathleen Ayala, 30, has been charged with murder in Cumberland County, New Jersey, following an altercation with her husband on Jan. 12, the Associated Press reported.
Authorities said Ayala, of Millville, and 35-year-old Axel Torres got into an argument in their home that became physical, and Torres left the premises.
Ayala chased after him and stabbed him numerous times with the nail file tool on the clippers, causing wounds to his feet, hands, shoulders and left leg.
When police arrived, they found Torres unresponsive and transported him to the hospital, where he died the next morning. [AP via WABC, 1/14/2020]