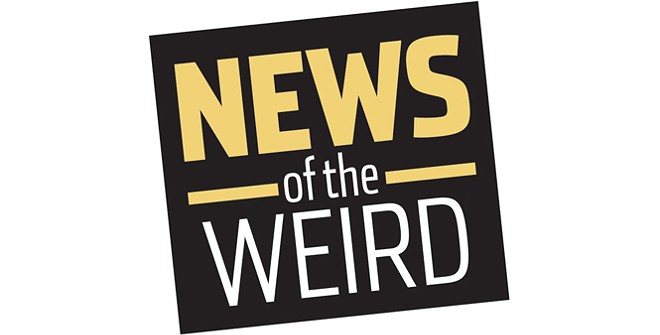 • Shawna Joseph, 28, of Jersey City, New Jersey, lost her cool on Jan. 7 at the New Jersey Motor Vehicle Commission in Bayonne.
Asked to leave around 2 p.m. after becoming angry over the length of the lines, authorities said she returned later that afternoon and unleashed her wrath, smashing computers, assaulting workers and kicking the police officers called to arrest her.
The Associated Press reported that Joseph eventually was responsible for about $23,000 in damages, according to authorities, and after she was arrested, she was found to have a PCP-laced marijuana cigarette in her possession; she was charged with criminal mischief, drug possession, aggravated assault and hindering apprehension.
• KTVX reported a man in Sandy, Utah, mistakenly assumed his local 24 Hour Fitness was open ... 24 hours. Dan Hill went to the gym late on Jan. 11 and finished his session with laps in the pool after midnight.
When he emerged, he realized everyone was gone and the doors were locked.
"Doesn't the name suggest that they stay open 24 hours?" Hill complained on Facebook. He called his wife, who suggested he "find a comfortable place to sleep."
Instead, he called police dispatch "and the guy pauses for like 10 seconds and says, 'You're where?'" Hill said.
He explained that he didn't want to risk tripping the alarm system and "get busted for breaking and entering," so police responded and freed Hill from his unexpected prison.
A manager from the gym apologized in a statement and said, "We made the decision recently to close select clubs in the overnight hours. ... We clearly did not do a good job of our closing procedures for this club on Saturday night."