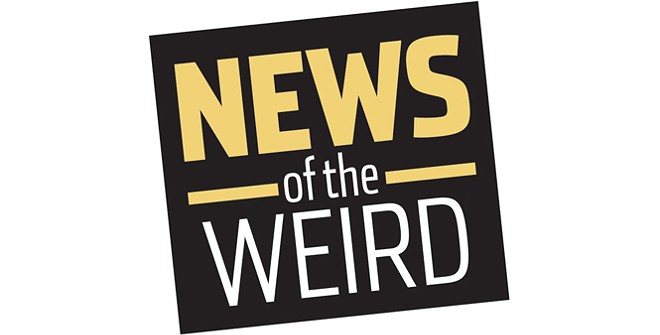 • Firefighters in Las Vegas discovered what they say is an illegal, homemade gas station in a backyard on Jan. 7.
The setup comprised two yellow tanks in the corner of a walled yard and a gas pump nozzle on the end of a hose long enough to reach from the backyard to the curb out front, the Associated Press reported, for "possible curbside fill-ups."
"This is not only illegal in the city," Las Vegas Fire and Rescue wrote on social media, "it is a hazard to neighbors (and) first responders who may respond there for an emergency, like a fire."
Las Vegas Metropolitan Police are investigating and believe it is part of a scheme to purchase gasoline with stolen credit cards and stash the fuel in storage containers at private homes. [Associated Press, 1/9/2020]

• Finally. Lizard owners who want to dress like their reptilian pets have a source for trendy looks: Fashion Brand Company of Los Angeles has been making clothes for lizards for a while, but now you can MATCH your bearded dragon.
The current collection, according to OK Whatever, includes velvet jumpsuits and Western fringe jackets that come with a tiny white cowboy hat.
The clothes are handmade and go for up to $125 -- and that doesn't include whatever you order for yourself. Founder Penelope Gazin says the ideas "come to me in my dreams," adding that lizards need clothes because "their bodies are disgusting and should be covered up."
(Gazin doesn't own a lizard herself; "I dislike lizards," she admits.) [OK Whatever, 1/8/2020]