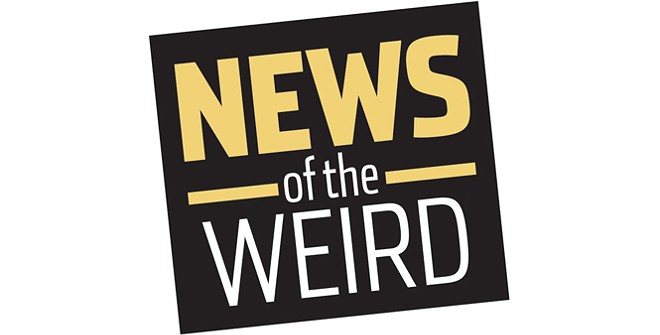 • Odis Latham, 47, and Russell Sparks, 48, of Columbus, Mississippi, were arrested on Jan. 6 after they allegedly hatched a cockamamie scheme to "win" the lottery, WLBT reported.
The two arrived at the Mississippi Lottery Corp. in Flowood and presented a losing $100,000 ticket upon which they had glued the winning numbers, according to authorities.
Flowood police arrested the pair, who were charged with conspiracy to commit a felony and uttering a counterfeit instrument over $1,000.
They were held without bond. [WLBT, 1/6/2020]

• Mike Parrish of Woodfin, North Carolina, is making fantasy a reality with a "Lord of the Rings" hobbit home he's building to offer on Airbnb.
"I'm not just a casual fan. I'm a huge fan," Parrish said as he guided WLOS through the 800-square-foot "Unexpected Journey," built 90% underground with one bedroom, one bathroom, a kitchen and round doorways crafted by local woodworker John Fenwick.
"What we want is to just have an area where people can come and bring their kids and just leave with an unforgettable experience," Parrish said.
The home should be ready to rent in February or March; Parrish and his wife have not set a per-night rate yet. [WLOS, 12/27/2019]