Jewish World Review Feb. 20, 2003 / 28 Shevat, 5764
Women offer advice on weeding out loser boyfriends
By John Boudreau
http://www.jewishworldreview.com | (KRT) The handsome, sweet date did everything right - up until he admitted to his nightly abductions by space aliens.
Then there's the supportive boyfriend who lent his girlfriend money so she could fly across the country to attend the funeral of her grandfather - then charged her interest.
And how about the guy who showed up for the first date with only a dollar in his pocket - and asked if his date had any money.
These tales from the dating front lines, as told by women, are detailed in "You Know He's a Keeper, You Know He's a Loser: Happy Endings and Horror Stories from Real-Life Relationships" by Linda Lee Small and Norine Dworkin.(Click HERE to purchase. Sales help fund JWR.)
The book underscores the axiom known to all who are engaged in the mating dance: You don't know how weird someone is until you date him (or her).
The book focuses on the stories of women because, well, females talk about these things, Dworkin says. Male friends have asked her why she hasn't written about the sometimes clueless and strange behaviors of women. "Everyone we have talked to in the business says guys don't buy these books," the author explains.
The book isn't about bashing men, though Dworkin concedes it was easier to find "loser" tales than "keeper" anecdotes. Actually, it's a lighthearted look at relationships that provides tips, gleaned through anecdotes from women around the country, for helping sort out the good from the bad and the ugly.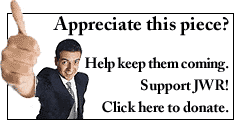 "I'm sure guys are hungry for this information," she says. "Guys say they aren't sure what women want. Well, here you have close to 200 women basically laying out the qualities that make for a keeper guy and a loser guy."
The writers interviewed strangers, friends and friends of friends of friends.
"I got a lot of my girlfriends to throw mini cocktail parties and brunches," Dworkin says. "We just got the girls talking. The women would just go on and on and on."
The writer was surprised that not one person said she looked for wealth in a man.
"Money was never mentioned by women regarding what makes a guy a keeper," she says. "No one said, `My guy is a keeper because he's loaded.'''
In fact, women look for a different kind of generosity.
"One woman told us the story about her husband," Dworkin says. "He's a car aficionado. He dotes on every car. He names them, polishes them. They are like children to him. But she always gets into an accident with his car. And he never gets upset. He always says, `Are you OK? We can fix the car.'''
Conversely, the men who quickly end up in the loser column display a "stinginess of personality," she says. "It's this feeling that you don't matter."
One woman recalled a ski trip date. She had explained she wasn't a very good skier and didn't want to go down a challenging run. He promised he'd help her, then abandoned her. Another woman dished about a similar situation. But her man carried her down the mountain - on his back.
The book, Dworkin says, is also a reminder to women like herself. She just got engaged.
"Having dated all these losers, once you find your gem, you really appreciate him."
___
Expect happy endings with this Romeo
What makes him a keeper:
•
He takes an interest in something solely because it interests his woman.
•
He's generous with his time and affection. Taking care of his sweetie when she's sick rates high.
•
Does the little things that make her feel special, such as buying her_unbidden_a telephone headset so she doesn't have to cradle the phone all the time and get a sore neck.
Even letting her pick the snacks at a movie shows a generosity of spirit and emotions.
•
He doesn't have to throw his money around but shows a willingness to pay for the meal.
Source: Norine Dworkin, co-author of "You Know He's a Keeper, You Know He's a Loser: Happy Endings and Horror Stories from Real-Life Relationships"
Sign up for the daily JWR update. It's free. Just click here.
Comment by clicking here.
© 2004, San Jose Mercury News Distributed by Knight Ridder/Tribune Information Services.