http://www.NewsAndOpinion.com | It's annoying, almost as much as a telemarketer calling during supper or all those political TV ads we're going to be subjected to a zillion times before election day. It's all those darned ads that pop up when you click on a Web site. It's one of the ways Internet publishers try to "monetize" their sites, and for that you can't blame them. It costs money to produce Internet content, and that money has to come from somewhere.

For those less inclined towards altruistic views of business, there are several ways of dumping the pop-ups. Both AOL and MSN offer ways to block the ads; MSN's as noted here recently, gives you a small "preview" of the blocked window just in case you DO want that low-low-low second mortgage offer. Some Internet Service Providers, or ISPs, will block pop-up ads if you use their browser software.

However, those options work only with the MSN or AOL built-in Web browsers. For those using other Internet Explorer or a "plain vanilla" ISP, there's a new tool at hand, called STOPzilla (stet), a $29.95 downloadable program that really and truly does block pop-up ads, by going after their source.

"Eighty percent to 90 percent of all popups we hear users complain about are spawned by 'adware'; the web site a user happens to be visiting or the browser they're using is completely irrelevant in most cases," Scott De Sapio, president of STOPzilla, said in a statement. "Our Adware/Spyware suppression engine is totally transparent to the end user and requires almost no user intervention. The result is a simple yet effective solution that puts the user in the driver's seat without having to become a guru-STOPzilla is the guru."

In the week or so that I've been running the software on one of my home PCs, connected to the Internet via Comcast's cable service, the program has blocked 26 pop-up ads from a variety of web sites, including some rather well-known media outlets. As far as "adware," I've not noticed any, but perhaps that's the point.

The program works with Internet Explorer, but not, so far, with Netscape or, I would imagine, any other Web browsers based on the "Mozilla" platform that Netscape also uses. The STOPzilla folks say they're working on a Netscpae version. One for Mac users may also come along, but I'd say that's less likely since Apple's Safari has the option to block pop-up windows as well.

One nice feature about STOPzilla is that it seems to be able to discriminate among different types of pop-ups: it blocks ads, but not my bank's little check-image-viewing window. Also, you can have the program display a "black list" of blocked pop-up sites and links, just in case you're wondering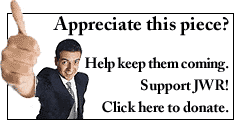 In short, this is an intelligently designed piece of software that may be helpful to many: according to the software publisher, a GartnerG2 research survey indicated 78 percent of respondents claimed pop-up ads were "very annoying." However, Nielson/NetRatings' online- advertising rating service, AdRelevance, found pop-up ads increased from 1.2 billion to 4.9 billion during a single nine-month period.

If pop-ups are bothering you, a trip to www.stopzilla.com should help end your misery. It's a good program that performs as advertised.

MORE ON THE DATA TIMEPIECE FRONT: Recently I had nice things to say about Suunto's n3 data watch, which receives broadcasts from MSN's radio-based computer service. I still like the product: the watch is good and performs rather well. Last week, on arrival in Manhattan for a business trip, the watch "sensed" where I was and switched its weather forecast and local news feeds to items I'd be more likely to need.

However, there have been some glitches: older news alerts I'd imagine were deleted would suddenly show up, and one day last week, the final Dow Jones average was not what the watch indicated. Those, however, seem transitory: right now, the watch is up to date and performing as expected.

One other point: I'd said there was no chiming of the hours or beeping when a news bulletin arrives. I was wrong on both counts, but the good news is the sounds are not loud or long enough to disrupt a meeting.
Find this column useful? Why not sign-up for the daily JWR update. It's free. Just click here.
JWR contributor Mark Kellner has reported on technology for industry newspapers and magazines since 1983, and has been the computer columnist for The Washington Times since 1991.Comment by clicking here.