http://www.NewsAndOpinion.com | I had promised myself I would not immediately write about Apple Computer's iBook G4, which bowed last fall and sells for as little as $1,099. I had determined that a week or two would pass - must pass - before I formed an opinion.

What can I say? Rules were made to be broken.

It's early in the game as far as my review of the iBook G4 is concerned; the portable arrived last Thursday and I'm already impressed. This is - it must be emphasized - a consumer-grade portable computer. It's not built for the video editing professional who wants (or needs) to work on the day's shooting out in the field. It's probably not for the publishing or advertising design professional who wants to be able to be creative on their deck overlooking a scenic vista. At the high end, you can get an iBook with a 14.1-inch display screen, a 1 GHz processor and 256 MB of RAM, as well as a 60 GB hard drive, all for $1,498. Max out the RAM to 640 MB and add a wireless AirPort Extreme card - highly recommended - and the price jumps to $1,748.

Neither price is onerous, I suppose, and the budget-conscious can drop the screen down to 12.1 inches and the hard drive down to 30 GB for the $1,099 price if they wish. This is, after all, a Mac we're talking about, and Macs always have been (and perhaps always will be) a shade more expensive than equivalent Windows-based notebooks.

It is, however, the intangibles of the iBook which, along with its very tangible features, commend it to users. This computer is white, almost solidly white and visually quite striking. Its outer shell is a brilliant enamel-like plastic with the die-cut Apple logo lighting up when the machine is on. Its inner surfaces are also solidly white, but a little more tactile. The screen is a color display, but even its whites are brilliant.

The keyboard is a bit flatter than many I have seen and its feel takes a bit of getting used to, at least in my case. But the "travel" of one's fingers on the keys is good, and I found myself adjusting quite nicely.

The "touchpad" mousing surface is another challenge: the surface is quite responsive, so much so that I limited its usefulness to only serving as a "pointer control" and, when the solitary mouse button is pressed, an ability to select a portion of a document. You can allow a tap on the touchpad to equal a mouse-click, but I found the responsiveness such that I was clicking too many times in places I didn't want to click.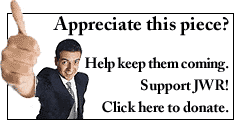 There are two USB ports, a FireWire 400 port, an Ethernet port, a modem port and an external video port, as well as a headphone jack. A built-in microphone is on the right side of the LCD frame. On the right side of the computer, there's a power-supply connector.

Battery life on this computer appears to run at about 4 hours, although Apple claims up to 6 hours of battery life, depending on configuration. In my limited use, I haven't gotten above the 4 hour mark.

The AirPort Extreme wireless card can deliver up to 54 megabits-per-second of data throughput; however, I got close to 11 MBPS in a mixed 802.11b/802.11g wireless environment. That's about double my standard WiFi (stet) speed, however, so the $99 investment in a card seems worthwhile.

Performance is rather zippy; startup takes about a minute, but then programs zoon right along. The hard disk size seems more than adequate for a home or home office user. And the $1,499 unit includes a side-loading optical drive that'll play DVD movies and record and play CD-ROM discs. That might make it a good traveling companion, although its 5.l9 pound weight is no longer considered the low end of the PC weight scale.

I could easily see this computer accompanying someone to a college dorm, or part of a very stylish home office. Better still, however, it's a device that'll run Apple's super-solid OS X version 10.3, as well as just about any Mac application, quite ably while still leaving a few dollars after your buy it. It's a good portable, it's a good home computer, and it's something I'll have more to say about after a couple of road trips.
Find this column useful? Why not sign-up for the daily JWR update. It's free. Just click here.
JWR contributor Mark Kellner has reported on technology for industry newspapers and magazines since 1983, and has been the computer columnist for The Washington Times since 1991.Comment by clicking here.