Jewish World Review Jan. 6, 2004 / 12 Teves, 5764
Putting up with abusive wife; father's request: son not attend his funeral; when to bill a buddy
By Wendy Belzberg

http://www.jewishworldreview.com | Q: I usually wash the dishes after dinner. Two nights ago I was doing homework with our daughter and I fell asleep. My wife, who doesn't work, called me at work the following day to say the four dishes from dinner would be waiting for me when I got home. Sure enough, four dishes with scraps were sitting on the kitchen table when I returned from work.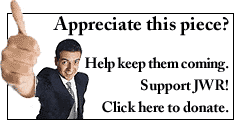 A: I don't know what the question is, but here's my answer: Get a divorce. But perhaps I'm being too harsh. First, put your foot down. Hard. If your wife didn't believe she could get away with such idiotic and abusive behavior she wouldn't think of trying. Did you do the dishes or are they still sitting there? (I rest my case). This kind of dynamic doesn't work for anyone, but it's most unattractive in front of a child, who presumably has something to learn about relationships. Get counseling. Get tough. Or get out.

Q: My friend's father just passed away. Though they did not have a good relationship, my friend planned to go to the funeral. He found out today that his father requested that he not attend. My friend is obviously confused and upset and not sure what he should do. Should he go anyway or should he respect his late father's wish?

A: Funerals are for the living, not for the dead. There is no way to know his father's state of mind when he requested that his son not attend his funeral. One thing is clear, the request is both hostile and hurtful — and it worked. Unless your friend's presence will make other family members uncomfortable, he should not think twice about attending. The father is dead and his son is left behind to grieve, and to make sense of their relationship. The funeral seems like a good place to start. And if this isn't an endorsement for addressing unresolved feelings and relationships in this lifetime, I don't know what is.

Q: A close friend asked me to help her out on one of her work-related projects. She cannot afford my day wage and I would be willing to help out based simply on our friendship. I assume she will charge it back to her client. Is it tacky for me to charge my friend for help she's asked for?

A: Is she or isn't she charging your time back to her client? That seems to be the key question here. (If you had asked her — and not me — you might already know the answer to your query.) If she is, then this is strictly a business relationship and your friend is your employer. You should have no second thoughts about asking for your regular rate — and accepting whatever the client is prepared to pay. Even if your friend is not charging her client for your time, your time and your assistance is no less valuable. Why not request payment in the form of dinner or a movie? I don't care how close the friendship; whenever money enters into the equation there is the possibility for misunderstanding. Be as upfront about this as possible.
Every weekday JewishWorldReview.com publishes what many in Washington and in the media consider "must reading." Sign up for the daily JWR update. It's free. Just click here.
---
Ask Wendy a question — almost any question — by clicking here.







© 2004, Wendy Belzberg