Jewish World Review Jan. 5, 2004 / 11 Teves, 5764
Jacques and James
By Jonathan Tobin

James G. Blaine, bigot
French ban on religious symbols is reminiscent of America's own legacy of religious bigotry, one that's still, amazingly, occurring today
http://www.jewishworldreview.com | When French President Jacques Chirac endorsed a piece of legislation last month banning the wearing of religious symbols, including Muslim head scarves and Jewish yarmulkes, in France's public schools, he seemed to have most of his country behind him.

Among the most conspicuous of these supporters was the head of the CRIF, an umbrella organization of French Jews.

The reaction to this announcement among most American Jews, as with most Americans, was incomprehension. How is it possible, many of us asked, that a country which considered itself a bastion of religious freedom would make religious Muslims and Jews unwelcome in its public-school system?

Part of the answer is that the post-revolutionary ethos of modern France is, as Chirac put it, 'secular.' Allowing Muslim girls to wear head scarves or Jewish boys to wear yarmulkes would cause the country to 'sacrifice its heritage; it would compromise its future; it would lose its soul.' The exact nature of the French national soul may be a matter of debate, especially for those of us who are less than enthused with its current anti-American and anti-Israel foreign policy, but Chirac's rhetoric notwithstanding, the real reason for the ban is obvious: Fear.
FEAR OF MUSLIMS
The French are afraid of the growing population of Muslims in their country, most of whom are immigrants or the children of immigrants from North Africa. Since French identity is — in the eyes of most Frenchmen — not a question of citizenship but of ethnicity, culture and language, the unwillingness of any immigrant to assimilate completely is seen as a threat.

And since the primary threat here is one that is composed of Muslims who are the source of most of anti-Jewish violence in the country, the unfortunate willingness of French Jews to go along with this prejudicial ruling becomes understandable, even if it is profoundly wrong.

That all this is taking place in a time when the West is at war with a worldwide movement of Islamist terrorists, albeit a war that our French friends like to pretend has nothing to do with them, makes the ban on head scarves doubly ironic.

The notion that this measure will halt the spread of Muslim fundamentalism in France or anywhere else is farcical. Freedom of religious expression is what the West should stand for, not discrimination. All Chirac has accomplished is to add another item to the never-ending list of reasons to hate the French.
ANTI-CATHOLIC DISCRIMINATION
But before we get up on our high horse to excoriate our French 'allies,' it might be instructive for Americans to ponder our own history of religious bigotry, including the remnants of a disreputable past that lingers on in our lawbooks.

Ours is a nation of immigrants, where the sort of ethnic chauvinism that characterizes French nationalism is ultimately untenable. But there was once a time in this country when political careers were made by bashing minority religions, First Amendment protections notwithstanding.

In the latter decades of the 19th century, the majority Protestant intolerance for minority Catholics grew as increasing numbers of immigrants arrived on U.S. shores from Ireland and Italy.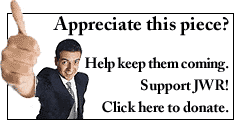 Few Americans at that time believed that religion had no place in the classroom. Government aid to religious schools was hardly unknown, since almost all schools, public or private, taught religion. Their only problem was that in those areas where immigrants lived in great numbers, Catholicism — a faith that many Americans then saw as a plot to conquer the continent for the pope — would be accorded the same respect and funding given Protestantism.

The result was a national movement to ban all state aid to parochial schools so as to facilitate the assimilation of Catholic children into the Protestant faith.

To the bigots' dismay, Catholicism thrived on this country. But the legacy of this movement remains in the form of the so-called 'Blaine Amendments' — after James G. Blaine of Maine, the Republican Party leader who championed this cause — to the constitutions of 37 states, including the Commonwealth of Pennsylvania.

Article II, Section B, of the Constitution of Pennsylvania still states: 'No money raised for the support of the public schools shall be appropriated to or used for the support of any sectarian school.' But few of us today care to remember that in the 1870s, when that line was written, 'sectarian' was a code word for Catholic.

Fortunately, Blaine failed in his attempt to pass a similar amendment to the federal Constitution. He also narrowly missed out on the presidency in 1884, when a supporter said in his presence that the Democrats were the party of 'Rum, Romanism and Rebellion.' That helped sink the GOP with the increasing number of Catholic voters and elect Democrat Grover Cleveland.

But after more than a century, Blaine's bequest to history is facing a new hurdle. A challenge to Washington state's Blaine amendment was heard last month by the U.S. Supreme Court. Locke vs. Davey, concerns a state scholarship program that excludes students who major in theology. The significance of the case goes beyond the obvious unfairness of the ban and its open violation of the student's First Amendment right to free exercise of religion. It also has implications for any form of state funding for private religious educational institutions in the form of vouchers or school-choice programs.

The Supreme Court ruled last year in a challenge to the constitutionality of a Cleveland vouchers scheme that such programs do not violate the U.S. Constitution or undermine the principle of separation of church and state. Those who think school choice can offer the poor an escape from failing urban public schools rejoiced.
A DIRTY LITTLE SECRET
But the opponents of vouchers consoled themselves by remembering that local school-choice plans would be stopped by state constitutions, which still bear the imprint of the detestable Blaine. The debate over the desirability of school choice rages on, but the dirty little secret of its liberal opponents, including the leading Jewish defense agencies, is that their best weapon is the result of a shamefully illiberal chapter of American history.

We can and should scoff at the French and their dim-witted attempt to forcibly assimilate foreign Muslims. But Americans should not rest easy knowing that our own laws still contain measures that are rooted in similarly contemptible prejudice. The future of free institutions relies on the defense of the principle of freedom itself, not legalized discrimination. Blaine's legacy needs to be erased from our laws.
Every weekday JewishWorldReview.com publishes what many in Washington and in the media consider "must reading." Sign up for the daily JWR update. It's free. Just click here.
JWR contributor Jonathan S. Tobin is executive editor of the Philadelphia Jewish Exponent. Let him know what you think by clicking here. In June, Mr. Tobin won first places honors in the American Jewish Press Association's Louis Rapaport Award for Excellence in Commentary as well as the Philadelphia Press Association's Media Award for top weekly columnist. Both competitions were for articles written in the year 2002.
© 2004, Jonathan Tobin