http://www.NewsAndOpinion.com | (KRT) Exploiting terrorism jitters and Patriot Act phobias, e-mail scammers have triggered an international computer-fraud investigation with their latest attempt to steal people's electronic identities, federal authorities said Monday.
Bogus e-mails arriving in computers nationwide in recent days claim to be notifying recipients that the government insurance on their bank accounts has been suspended by U.S. banking regulators on the advice of Homeland Security Director Tom Ridge "due to suspected violations of the Patriot Act."
The e-mail also directs recipients to a supposed government "IDVerify" site so they can provide the necessary personal data to be checked against government records in clearing up the situation.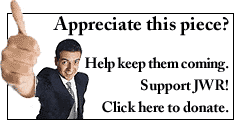 Not true. Instead, the personal data is likely to be used by identity thieves to drain vulnerable bank accounts and wreak other havoc with a victim's finances, authorities said.
"This only takes up to a minute and when we have verified your identity, you will be notified of said verification," the bogus message states. "And all suspensions of insurance on your account will be lifted."
The message claims to be from the Federal Deposit Insurance Corp., which guarantees the government guarantor of bank deposits, and from the Comptroller of the Currency, which regulates the nation's banking system.
The e-mails followed a now-familiar formula set by other scams in recent months and years. These schemes typically impersonate well-known commercial firms while trying to lure people into revealing bank or credit-card account numbers, Social Security numbers or other data that can be used to steal their identity and money. In Internet-fraud terms, such ploys are now called "phishing" scams, because the crooks are casting about, or fishing, for people's confidential information.
But this was the first time anyone had gone "phishing" while pretending to be the FDIC, agency officials said.
They said FDIC call centers have been inundated with reports since the e-mail first surfaced. As of Monday afternoon, more than 5,400 people reported receiving the fraudulent message.
"I would say we have never been overwhelmed by e-mail the way we have been in this instance," spokeswoman Elizabeth Ford said. "But in a sense this is good news, because it shows people are recognizing this is a scam and they are sending information to us so we can find the bad guys."
The FBI and FDIC investigators are on the case, Ford said. Early evidence indicates the e-mail came from several sites around the globe, including Pakistan, Taiwan and China. Investigators have also determined that the scammers were using a Web site in Russia to collect data from anyone who fell for the ploy.
So far, however, there appear to be few victims compared with similar scams in the past, government officials said. The public is now more aware of such activity, they said, thanks to highly publicized scams last year that used companies such as Citibank, eBay and Best Buy for cover.
"Some preliminary numbers show that a very, very small percentage of people have fallen for this," Ford said. "Of the 5,401 reports we received, only five people said they submitted information to the bogus Web site. We're hopeful that most people have become too savvy to give out personal information in response to an unsolicited request like this."
But even a handful of victims would provide the Internet con artists with enough information to do some damage, privacy experts said. They might have sent out a million messages, received a dozen responses that included the person's credit-card or bank account numbers, and have what they need to steal hundreds of thousands of dollars from those strangers' accounts.
"If they get even a miniscule response, it has been a successful ruse for them," said Beth Givens, director of the Privacy Rights Clearinghouse, an advocacy-and-education organization based in San Diego. "A scam like this one is very, very clever. It uses some hot-button issues, such as terrorism and the Patriot Act, to pull people in. It plays on people's fears."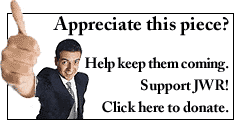 Appreciate this type of reporting? Why not sign-up for the daily JWR update. It's free. Just click here.
Comment by clicking here.