Jewish World Review Dec. 11, 2003 / 16 Kislev, 5764

Keith Olbermann
As the world churns …
http://www.NewsAndOpinion.com | It never fails. A celebrity announces he is trying to kick a pain pill addiction and he immediately breaks eight ribs and a vertebra, requiring pain kills. Ozzy Osbourne will spend at least one more day on a ventilator after he hit some kind of object while driving an all-terrain vehicle and the bike landed on top of him. He's listed in stable condition.

If you would like to feel the touch of the noted British chilliness, the bookmakers William Hill immediately cut their betting odds against Osbourne's latest single topping the charts on Christmas. A spokesman says a lot of people will now buy it out of sympathy.

Meanwhile, another British showbiz figure goes in for surgery Friday. Elizabeth Windsor, better known to her fans as queen, will have surgery to remove torn royal cartilage from her royal left knee. Queen Elizabeth II's operation will take place at King Edward VII Hospital. And those are tonight's winning royal lottery numbers.

And lastly, it is once again our honor to add another priceless image to the burgeoning mug shot hall of fame, the funk pioneer George Clinton, arrested in Tallahassee, allegedly having told a policeman that he had cocaine in his pocket.

So Michael Jackson, Wynonna Judd, Nick Nolte, Glen Campbell, scary Glen Campbell, and now the minister of funk from parliament, George Clinton. You know, the spectrum hair is good. But compared to his ordinary work clothes, he actually looks kind of sedate. He has gentle eyes.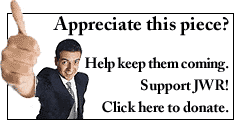 Enjoy this writer's work? Why not sign-up for the daily JWR update. It's free. Just click here.


The writer hosts MSNBC's "Countdown with Keith Olbermann." The news program, dedicated to all of the day's top stories, telecasts weeknights, 8-9 p.m. ET. Comment by clicking here.
11/03/03: The science of pop-cultcha?
10/20/03: Grief becomes celebrity
10/17/03: When critical baseball games are decided by fans
10/16/03: The Gospel according to 'The Simpsons'?
09/26/03: As the Western World churns
09/11/03: Memories of 9/11
09/09/03: As the Western World churns
08/25/03: As the Western World churns
07/30/03: Nike, lawyer, almost canceling on Kobe?
06/20/03: The parenting files
06/19/03: As the world churns
06/13/03: The No. 1 story is No. 2: The poop on America and its bathrooms
06/04/03: Terror attack preparation: Too much or too little?
06/02/03: Bush vs. Clinton?
05/29/03: Ticket blitz in New York City? Hey, at least pregnant women won't be blocking stairwells
05/21/03: 'Barney' as torture
05/08/03: Because you just can't take the news too seriously
04/30/03: Should we be more scared of SCARS, or a government that will readily deny you your freedom on the suspicion that you may have it?
04/29/03: Man bites dog --- really!
04/28/03: Because you just can't take the news too seriously ...
04/25/03: The panic over SARS
04/22/03: Playing —and greeting cards in a changed world
04/21/03: Reading your own obituary ... and other 'oops' moments
04/15/03: Saddam Hussein and the Sorcerer's Stone: The secret to Saddam's immortality

© 2003, MSNBC