http://www.NewsAndOpinion.com | What has the past year brought us, and what can we expect in 2004?

THE PC IS DEAD, LONG LIVE THE PC: The personal computer as an alien object in people's lives and homes (let alone cars) is, I believe, history. The PC isn't going away - not by a long shot - but it's probably as familiar to us as, say, color television sets were 40 years ago, and VCRs were a generation or so back.

That means several things. For the PC-making companies, there's a squeeze on profits: Gateway's Ted Waitt told the "Los Angeles Times" recently that the old $500 profit a maker garnered on a new computer was down to about $50 or thereabouts. That's one reason why Gateway is selling digital cameras and plasma-screen TV sets, to leverage their brand name and retail stores into a new distribution channel. Watch for Dell Computer, HP and others to follow suit in the New Year.

LINUX, OR LINDOWS, RISING? As far as the backbone systems of many enterprises are concerned, things like computer networks, corporate e-mail and file storage, the free-or-super-cheap Linux operating system has long been an option. Now, there's a move, albeit a nascent one, to bring Linux to the desktop and give people computers that are close to the capabilities of those running Microsoft Windows, but at a far lower cost.

The price drop comes from being able to use processor power better, memory more efficiently and, oh yes, not having to pay the licensing fees Microsoft slaps on its operating systems and applications. Linux is free; desktop variants such as Lindows (www.lindows.com) are low cost and often include basic, but useful, applications for word processing, spreadsheets and the like. Files are readable back and forth with Windows users.

All that's fine and well until you run into an application or tool that isn't (yet) available in this world of "open software." For most people, most of the time, this may not be a problem, but for many of us, making the leap could yet deliver some problems. In 2004, expect to see more Linux-friendly applications and user-friendly machines. It'll be worth watching.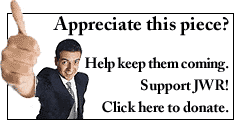 MAC REMAINS STRONG: This year's launch of iTunes by Apple Computer has won plaudits from all over, and with good reason. It is, for my money, the smoothest, most sensible and easiest-to-use music download service. It runs on Windows and Macintosh computers. And it's just plain fun.

"Fun," frankly, is a word that can be used to describe other Mac features, as I'm into my second year of doing just about everything on a Mac, both at work and at home. There are still a couple of programs I use that are only available on a Windows platform, but these are handled, ably, by a program called Virtual PC 6, which I've installed on both home and office Macs. It's an emulator that lets me run Windows XP, oddly enough, and it's now made and sold by, ta da, Microsoft Corp.

Whether and how Apple will maintain its momentum in 2004 is unknown at this writing. Beginning January 4, however, the winter Macworld show in San Francisco might feature some answers.

But regardless of whatever is - or isn't - announced by Apple honcho Steve Jobs at the California event, there's one thing clear: the place for enjoyable computing is centered about 90 minutes south of San Francisco's Union Square, in Apple's Cupertino headquarters. No other platform that I've worked with is as consistently enjoyable and, more important, as consistently crash-free, as the Macintosh.

DIGITAL PHOTO, VIDEO SCORE: Prices for digital cameras and digital video gear are dropping, so are sizes and weights in some cases. That means more capability for less money, and more ways to use and spiff up and share what you've captured in Bangkok or in Boise. I don't expect any diminution of these trends in 2004, but do expect to share more observations on how to make photos and video shine, in this space.
Find this column useful? Why not sign-up for the daily JWR update. It's free. Just click here.
JWR contributor Mark Kellner has reported on technology for industry newspapers and magazines since 1983, and has been the computer columnist for The Washington Times since 1991.Comment by clicking here.