http://www.jewishworldreview.com | An imaginary interview:

You're a member of an Islamist terrorist organization, right?

"I am, the grace of Allah."

Mm-hmm. We here in the corrupt and decadent West recently read of an interesting twist in suicide bombing. One report said that a female suicide bomber planned to board a plane with explosives secreted in her nether zones, so she could escape detection and kill everyone on the plane. This story ran right alongside news of the successful landing on Mars of the Spirit probe — an interesting contrast, really. A question: Do you want to go down in history as a culture of death-besotted killers who came up with the concept of the lethal Birth Canal of Death, or the culture that put another robot on another planet?

(Silence) "Is this a trick question?"

No, really. Which would make you more proud? Coming up with cunning ways to blow up men, women and children on airplanes, or putting rockets on other planets?

(Thoughtful silence) "This planet, it is an infidel planet?"

Depends if there is life there, I guess. That's what the probe is meant to find out.

"So the probe could discover Zionest infidels on another planet."

They'd be microscopic Zionists.

"But infidels nevertheless!"

Most probably.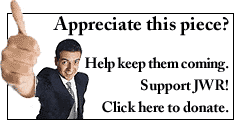 "So! This robot you send — when it finds these deviously small Zionists, it blows itself up! Correct?"

Sigh. Yes. Yes, it blows up, and then other microbes throw a party and the European Union warns Israel not to even look at Mars. Sheesh. OK. Let me rephrase this. We've shown we can reach around the world and topple governments, and target specific buildings from space. Does it impress you guys at all that we can also aim rockets at Mars and land the package right in the crater we intended to hit? Granted, the crater is the size of Connecticut ...

"Which is full of infidels!"

Uh ... rrrrright. But again: We have precision, ambition, technology, confidence and love of life. You have mud cities that collapse because your mullahs ran a racket that kept the houses of Bam cheap and shoddy. You have leaders of your rackets who dictate screeds into cheap tape recorders from unheated caves. You have a scientific community that seems to have patentophobia, and your newest rumored advance in warfare would never be detected because of the very modesty and respect of women you believe the West rejects. And you believe you will win.

"With G-d's help, yes! Tell me more about this suicide space-robot of yours. We would like to know if it can be reprogrammed to smash into Mercury and teach it a lesson. Look at Venus — the entire planet is veiled, as it should be. Mercury is naked to the universe! If its moons had any honor, they would shove it into the sun. The entire universe is infested with infidels; it must submit or perish. We must explore the universe in order to reject it! This cannot be left to the West — we have heard of how you put a satellite out with pictures of naked people engraved on the side."

True. A calling card to anyone who found the Voyager probe; it showed them how humans appeared, so visitors didn't show up and make conversation with fish or dogs. But that's not the point. You see a robot ship on another planet, and it does not make you wonder if perhaps there are better things you can convince your people to accomplish?

"I seek only to undo the work of the Zionists and the Crusaders. They will be defeated by satellites and robots and rockets. Truly Allah has given us great tools to spread the way of righteousness."

Excuse me, but you weren't given these tools. We invented them.

"He has given them to you. And he will give you to us."

OK, thank you for your time. One more question: Does it get harder here at Gitmo, or easier?

"The weather's nice. The food could stand some improvement." Pause. "I would like some more floss. The waxed kind. Mint, if they have it. I could never get that back home."