Jewish World Review Jan. 20, 2004 / 26 Teves, 5764

Dan Abrams
Being more frugal with the death penalty: Getting it right, more important than getting it often
http://www.NewsAndOpinion.com | Although I support the punishment, prosecutors are using the death penalty too often. It is no longer reserved for the worst of the worst, and has, instead, become a garden variety punishment. That means more mistakes and less faith in the fairness of the sentence.

Although I support the punishment, prosecutors are using the death penalty too often. It is no longer reserved for the worst of the worst, and has, instead, become a garden variety punishment. That means more mistakes and less faith in the fairness of the sentence.

Since many prosecutors don't seem willing or able to better choose which cases should qualify, maybe it's time to make it harder for jurors to impose it. Right now in the 38 states where the death penalty is an option, jurors generally have to weigh the aggravating and mitigating circumstances and determine whether the aggravating circumstances, or the reasons to execute, outweigh the mitigating ones, or the reasons not to.

Usually the prosecution has to prove at least one aggravating factor beyond a reasonable doubt. Now, New York's highest court is considering a case that would up the ante, increasing the standard of proof for the death penalty from beyond a reasonable doubt to beyond any doubt. Some prosecutors are worrying that this will make the penalty too difficult to impose.

Maybe, but it may be the only way to make the punishment more accurately fit the crime. The death penalty is under fire. DNA has proved that many on death row are innocent, leading some states to reevaluate all their death row cases. I want to ensure the death penalty remains on the books. But for serial murderers or those who torture their victims or kill children, the most heinous of crimes, we have to make sure that the right person is convicted and for a penalty so severe.

Where life is at stake, the criminals ought to be the type of people most reasonable jurors would want to execute. Not, for example, the alleged driver of a getaway car for a person who shot someone in a botched robbery. For that person, is life without parole really a travesty of justice?

For the death penalty to "survive," it's going to have to adapt to changing times — getting it right, but not necessarily getting it so often.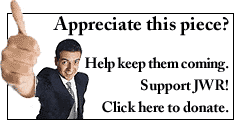 Every weekday JewishWorldReview.com publishes what many in Washington and in the media consider "must reading." Sign up for the daily JWR update. It's free. Just click here.


JWR contributor Dan Abrams anchors "The Abrams Report," Monday through Friday from 9-10 p.m. ET on MSNBC TV. He also covers legal stories for "NBC Nightly News with Tom Brokaw," "Today" and "Dateline NBC." To visit his website, click here. Comment by clicking here.

01/15/04: Stupid warning labels: The death of common sense and responsibility
01/14/04: Because 9/11 did change America: New government proposal on airline screening seems fair
01/13/04: Jury of one's peers: Not to be taken literally
01/09/04: When the truth hurts, lawyers try to close proceedings
01/08/04: Lies, damn lies and those that don't seem to matter
01/07/04: Convicted child murderer's mommy should start accepting some responsibility for son's fate
12/17/03: It's time to stop assuming that the Iraqi people can't fairly try Saddam Hussein
12/15/03: Why the case of 16-year-old convicted murderer highlights the problem with some defense attorneys, to whom the truth is sometimes beside the point
12/11/03: Tweaking Miranda
12/10/03: Why the accused in "Central Park jogger" case aren't falsely accused angels
12/08/03: Lawyers blaming the media
11/20/03: Why it's time to throw out the insanity defense, as we know it
11/14/03: What happens when jurors leave their common sense at the door?
11/13/03: Are the Brits finally learning that the risks of suppressing or banning speech are greater than allowing it and then punishing the violators?
11/12/03: Fairer fare
11/06/03: Why so-called no-nonsense judges sometimes put up with a lot of nonsense
10/23/03: Why the presumption of innocence does not and should not exist outside a courtroom
10/22/03: College kid (in)security maven deserves country's gratitude
10/21/03: If you don't like it, you can drive
10/17/03: Blurring the line in the Kobe Bryant case between what is significant and what is just salacious
10/16/03: Why prosecutors and the judge shouldn't let Kobe's lawyer hijack the preliminary hearing
10/15/03: False bravado from the mayor of New York
10/13/03: The media circus myth
10/10/03: Angry electorate?
10/07/03: Why a recent ruling in the case of Zacarias Moussaoui, the so-called 20th hijacker is no cause for concern
10/02/03: Children, guns and political fear
10/01/03: Why you should hold off on thanking politicians for passing and signing the national do-not-call list
09/30/03: A star Ohio State running back is suing to become eligible for the NFL draft
09/25/03: The effort by some law schools to keep military recruiters off their campuses
09/23/03: What a hurricane can teach us about dealing with terrorism
09/22/03: Why I'm tired of criminal defense attorneys in particular in high profile cases complaining about media leaks
09/18/03: How budget cuts nationwide are starving many of the state courts and allowing some criminals to go free
09/17/03: Charging wounded soldiers for food!?
09/16/03: al Qaeda has finally found a media home
09/15/03: Journalists who exposed security threat, now being punished?
08/14/03: The California 'student council blue light special' election
08/13/03: Why the Transportation Security Administration needs to start getting it's priorities straight
08/12/03: Let local U.S. attorneys do their jobs
08/07/03: Why itís time to release the documents surrounding Kobe Bryantís arrest
08/06/03: Terror warnings do serve a purpose
08/03/03: How even the most pro-Saudi polls still make many of the Saudi people seem like enemies of America
08/01/03: Why is the outgoing president of one of the most influential legal organizations advising attorneys not to represent certain clients?
07/31/03: Class action lawyers get huge fees while their clients get squat
07/30/03: Why it makes no sense to keep the public and the victims in the dark about a key section of the 9/11 report from Congress
03/27/03: Homeland Security update
03/20/03: Did I misunderstand the French?
03/18/03: No longer shielded from reality
03/17/03: Franco-phobic nonsense sweeping the nation
03/14/03: An exception to my "be extra tough on terrorists" rule
03/13/03: Whiner Assad still doesn't get it
03/11/03: What a new deadline for Iraq should really mean
03/10/03: The dishonest arguments against war with Iraq
03/07/03: On Iraq, the administration seems undeterred. It seems, there is no other way out
03/05/03: The so-called human shields in Iraq, now coming back from Fantasyland
03/04/03: Michigan backing off of mandatory minimum sentences for certain drug crimes
03/03/03: Why military tribunals could be the best optione of defining them as military
02/28/03: Is prez signaling a return to the American Bar Association ratings for prospective judicial candidates?
02/26/03: And now the "don't-blame-me" attitude is extending to mass deaths
02/10/03: Avoid politicizing the shuttle disaster
01/29/03: A litany of violations? That Saddam has not disarmed is already a given
01/23/03: Why the feds should not give up on the prosecution of alleged 20th hijacker in a federal court
01/22/03: What was Powell thinking?
01/21/03: Human rights groups still don't get it when it comes to the new war on terror
01/16/03: Yet another reason why we shouldn't trust the Saudis
01/13/03: Why the administration should share intelligence with U.N. inspectors
01/10/03: From a special punishment to a garden variety one
01/08/03: Should victims of a terror attack sue the city?
01/06/03: The "Jackpot Jury" syndrome continues
12/30/02: It's the holidays, let me order my wine!
12/20/02: The judge who dropped the ball in the battle over who owns Barry Bonds' 73rd home run ball, valued at nearly $2 million
12/19/02: Requiring Pakistani and Saudi male visitors to register with the INS
12/18/02: Why many seem to misunderstand Iraq's international obligations
12/17/02: Shouldn't there be a standard for what would trigger a war with Iraq?
12/13/02: Judge Rose by what he did on the field
12/12/02: Manhattan prosecutors making a mistake in the Central Park jogger case
12/11/02: Why our government refuses to fully cooperate in the prosecution of a possible 9/11 conspirator
12/10/02: Hezbollah, not a terrorist organization, says Canada
12/09/02: The world's cynical view of America
12/04/02: Why we need to stop electing judges
11/27/02: Why men should be able to sue women who lie about who's the daddy
11/26/02: Training lawyers to be touchy-feely
11/25/02: The story of a real American hero
11/22/02: In Illinois, academics lawyers, judges hurting their pro-life cause
11/15/02: A close reading of Iraq's letter of acceptance makes it clear that Saddam will almost certainly refuse to live up to its terms
11/14/02: Al Jazeera: A state-sponsored mouth-piece
11/13/02: Should Moussaoui be sent to a military tribunal?
11/12/02: Should human rights activists complain about the detainees' treatment?

© 2002, MSNBC