By Binyamin L. Jolkovsky


When one thinks of professional photographers whose work have been published in some of the country's leading media, one normally does not think of yarmulke-topped, religious Jews. But Manhattan-based Judah S. Harris is breaking stereotypes. His photographs have appeared in advertising, on the Op-Ed pages of The New York Times, and on the covers of 33 novels, mostly literary fiction. His photo essays have been published in The Los Angeles Times, New York Newsday and Country Living Magazine, and stories about his work have appeared in Shutterbug and The Picture Professional.
Harris' photographs documenting Jewish life have been included in exhibits at the Jewish Museum, Beth Hatefutsoth, and the Klutznick National Museum in D.C., and are on permanent display at the Museum of Jewish Heritage. Corporations and individual collectors have purchased signed prints of his evocative imagery of people, places, and life's moments, and in 2002, Bloomingdale's acquired 19 large prints of his conceptual color and B&W work for display at five store locations. He brings to his vocation a sensitivity that is immediately discernible. JWR caught up with him as he prepared for his latest exhibit.
http://www.jewishworldreview.com | JWR: What makes you a Jewish photographer, besides the fact that you're Jewish, and observant too?

HARRIS: I tell people that I photograph Jewish life and life in general. A lot of my pictures are inherently Jewish - Israel, Jewish people, culture, ritual; But life is also a Jewish concept. Judaism stresses discovering life, making the most of it. I think we're all supposed to find out what it's all about. I explore all this through photography and part of that is sharing my explorations with others.
JWR: You've been to Israel many times…more than twenty, perhaps. Have you experienced or explored Israel differently, say, than another American Jew of similar background and age?

HARRIS: Firstly, when I was in Israel for a year studying at a Yeshiva - an Israeli Yeshiva called Kerem B'Yavneh - I found myself in a new place for the first time. I think we're always stimulated by the new or novel…be it a person, a place, a situation. So here I was in a new country…I had brought a camera and I was interested in this place…it had meaning to me. I was able to take pictures, and realized during the course of the year that I had a visual talent, an interest in people, maybe a fascination with people. I know my friends also took pictures too, on our trips and so on, but I saw things a certain way, already had played with a Super8 movie camera that I bought with some of my bar mitzvah money a number of years earlier (I was 18 my year in Israel). Today, when I go back, I see things as a photographer, or as me. It's not just about the camera or film, it's about what I'm interested in or attuned to, and what I happen upon, discover along the way. Different things draw different people. I'm creative, curious…so I'll be drawn to certain moments, situations - things that relate to the human drama or, in less broad terms, the drama in ones environment, in ones backyard, figuratively speaking.

JWR: Your pictures of not specifically Jewish subject matter, such as a tree or a landscape, or the portraits that you photograph…some of the larger color pictures in your show such as the blurred splashes of various lights at night in the city… Or, another shot of a line of cars in traffic on a highway of sorts, seen through the front windshield of a car…and you see the line of the cars in a slight curve, and all the red tail-lights lit as the cars have stopped in traffic…all the drivers' feet are on the brake pedal… You're suggesting that these pictures too express religiosity in some way?
PHOTOGRAPHS BY JUDAH S. HARRIS ON DISPLAY JANUARY 2003 AT THE JCC ON THE PALISADES
An exhibit of Harris' photographs titled Just One Moment, will be on display at the Waltuch Gallery of the JCC on the Palisades, 411 East Clinton Ave., Tenafly, NJ from January 2 - 28, 2003.
Gallery hours are Monday through Thursday 9:00 a.m. to 10:00 p.m., Friday and Sunday 9:00 a.m. to 4:00 p.m., closed Saturday and Jewish holidays. Admission is free and open to the community. Artwork is available for sale. For more information contact Ophrah Listokin, Cultural Arts Director at 201.569.7900, x 433, or Judah S. Harris at 212.927.3360.

HARRIS: I don't think of it in those terms. Not all the world's a synagogue, but all the world's a sanctuary, or can be. Our tradition teaches us that we're supposed to strive to create a place for G-d inside ourselves. And we believe that we have a soul, a part of G-d in each and every one of us. We're different than the animals, and certainly plants, though they also represent G-d's creation and have significant purpose in this world. So anything I photograph comments on the human condition. The world's an interesting place. There are so many stimuli to react to and respond to. The world was created to engage us. Splashes of light are engaging, to me at least. And traffic…well it might be frustrating for some, or boring…but I saw a line of cars, it had been raining heavily and the road reflected the lights well. The red tail-lights are so integral to this picture.
JWR: It's an interesting viewpoint, and colorful… Can one find an even deeper message in the photo?
HARRIS: I suppose…though I don't always think of this every time I'm actually there taking the picture. I'd suggest that even the "realities" in life are a metaphor for something else. The cars for instance… We spend our lives going places, or at least we should… and sometimes it takes a while. Perhaps there was a different road we should have taken; maybe we saw it, maybe we missed it. Maybe it didn't look like a road at all…. Some rides are very enjoyable. We've all experienced that - I hope…. What's important is that we get there, and see things, learn things along the way.

JWR: Your current exhibit is called Just One Moment. You've chosen 57 moments. How do you choose what to include in the show? There are a lot of pictures on display and they're quite diverse. Were there others you'd have liked to include?

HARRIS: I wanted to choose a good overview of my work and I wanted to share a lot. I think that people seeing the show will get a good sense of what I photograph: Portraits, landscapes, conceptual images. It's funny, I have one picture called Etched Man - it's a photo of a man with a hat…you can't make out the features at all, as it's dark. I etched into the photograph; I "drew" features, and it looks definitely figurative. People ask about it because it's nothing like the other images in the show. If it wasn't alongside all the other photographs, people wouldn't know that it's by the same photographer. But it is. It's an experiment. I think that an artist can try new things. That's how we discover new techniques, new ways of seeing things. I've created some other interesting etched photos, but believe me, I'm not about to do only etched photos from now on. I'm very much a realist. I relate to the reality of the world. As for other images, not in the show… yes, there are other photos I'd have liked to include. It takes money to put something like this together, so some will have to wait till next time.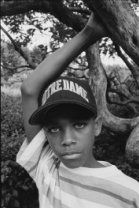 "Bernie"
JWR: The boy in the photo - he's wearing a Notre Dame cap and holding a branch of a tree - who is he?

HARRIS: I call the picture "Bernie" - I title all my photos literally…usually. I took this in the early Nineties in Central Park and have always loved his direct glance, and the way his arm is twisted, "mirroring" the branch of the tree. I suppose the effectiveness of a photo shows if one asks "who is he" or "where was this taken." Photos should get the viewer to care, want to know more…and they should impart a message, if possible. The Ethiopian Woman is another portrait. She's dressed in traditional robes and has coloring around her neck. I photographed her from a lower angle, looking up. It gives her stature. I've always felt that this photo shows her in a way very similar to pictures we might see of an Indian Chief…she's very regal, standing there tall and proud in her ethnic dress. She was proud that someone was paying attention to her, interested in her, a stranger in a new country. She's a mother, a wife…a new immigrant, then living in a caravan complex in the southern Israeli town of Be'er Sheva.

JWR: What are your upcoming projects? Do you keep a journal of ideas? Do you see things or think of things and say " I want to do this…I want to come back here and photograph a picture, a series of pictures, a whole entire book..."?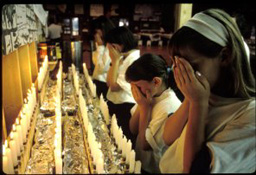 Sabbath Candle Lighting ceremony
HARRIS: There's a lot I'd like to do. I have a few folders of ideas I've written down, and ideas in my head for all the things you mentioned. Firstly, I've photographed Jerusalem over many years. I want to continue; even photograph elsewhere in Israel. I'd like to do a book that portrays some of the tapestry of Jerusalem. It's a special city; anybody who's been there experiences that. A little closer to home… I have an idea to do a series of pictures…photographs of people waiting on the NYC subway platforms. People wait, often expressionless, and at rush hour there are lots of faces. Often I've photographed while standing on the platform, but recently I took a picture, during the evening rush hour, while standing about a third of the way up on the stairs that go down to the platform, and from that perspective I could see all the faces - a real mixture of people and ages and ethnicities. People are standing, reading, thinking, looking, waiting… I'm watching...

JWR: You've thought about doing film… Any ideas here that you can share?

HARRIS: I'd love to do film. What a powerful medium… I've thought about doing a film on the Talmud, about two men in their 30s or 40s…each have their jobs, families, lives, but they also study Talmud together on a regular basis. For each of them, learning Jewish law - halacha, as it's called - and Jewish thought is a significant part of their life and contributes to their overall outlook and perspective on things. What's interesting, though, is that this film will actually portray the rabbis, the sages whose discussions and rulings are quoted in the Talmud.

The two main characters will be discussing a topic, quoting the opinion and logic of a certain Talmudic rabbi, and then the film will cut to that same rabbinic figure living 1700 or 1800 years ago…show him with his own students studying, analyzing, contemplating the Torah, formulating the words that have now been read, quoted, and practiced in Jewish life throughout all the generations since the times of the Talmud. The film will portray some of the sages, their lives, their families, their "jobs" - who were they, these monumental individuals?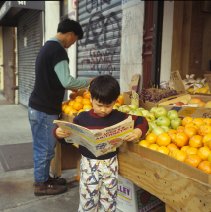 They were like us in some ways, and in many ways not. They didn't pick up their kids from school in the mini-van, but they were indeed real people with real, and sometimes surprising stories and backgrounds. The Talmud tells us this, or suggests so. So you see it's also a period piece, and I want the film to introduce the wealth, wisdom and amazing depth of Jewish law, show how it developed over the years, how it's dynamic, how it's studied and applied even today…the continuum of tradition…its relevancy and value to us. I think many could appreciate that message, even non-Jewish audiences. So far, I'm calling the film Sea of Talmud - the term the sages have used. I think I've given away my entire film - but actually it's just an idea right now. I haven't written a screenplay or hired the costume designer yet.
JWR: So we can't buy tickets yet… But how can people buy your work, your photographs? Do you have any more shows scheduled?

HARRIS: I'll be having a few shows in the coming months. One in NYC and one in LA are being planned, and I'm certainly available to speak or exhibit elsewhere. We can inform people if they send us their e-mail and regular addresses. People can contact me directly to purchase signed prints of my B&W and color work, or to discuss assignments.

JWR: We certainly encourage our readers to go see the show, and upcoming ones too. Seeing the photographs "live" and large size is probably the ideal, but thanks for displaying a selection here at Jewish World Review. We appreciate your sharing your thoughts, creative aspirations, and some of the stories about the pictures you've taken.

HARRIS: Thanks - hope to be back soon...
A limited-edition collection of some of Judah S. Harris' most important photographs, spanning the first 15 years of his career, 1987-2002, is being published this spring. For more information, you may contact him by clicking here.
---
Binyamin L. Jolkovsky is JWR's Editor in Chief. Comment by clicking here.