[ J E W I S H L I V I N G ]
answering the wake-up call
Is there life after liberalism?
By Jonathan Tobin




One of American Jewry's most venerable groups confronts reality --- and begins to shift its agenda in an effort to survive.


law and life
Score one for the
value of human life
By Drs. Michael A. Glueck & Robert J. Cihak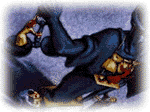 Although initially you might think this a leap, we suggest that the link between the jihadists and the wrongful birth lawyers is a deep one. Both regard the lives of some as an intolerable affront to the lives of others, an affront that goes far beyond this world's "normal" human struggles.





[ D A I L Y I N S P I R A T I O N ]


WISDOM EACH DAY: Start your day off right with words that will speak to your heart and soul. (NEVER TRIED THIS FEATURE? YOU DO NOT KNOW WHAT YOU ARE MISSING!)




[ L I F E S T Y L E S ]

Dr. Ed Blonz: Three cheers for chocolate?

Bruce Williams on JWR: How much down payment for car?




[ I N S I G H T ]



Leonard Pitts, Jr.: A little cultural respect works both ways

Ian Shoales: If you truly want to appeal to the lowest common denominator …

Mort Zuckerman: Putting our house in order

Bob Greene: Well, America has gotten its voice back

Bill Schneider: And, they're off …

Fred Barnes: The era of GOP big government begins

Diana West: Oh brothers, where art thou?

Robert W. Tracinski: Fading shock and fading resolve (GREAT!)

Edward N. Luttwak: Size doesn't (necessarily) matter ... for the military

Jack Kemp: Confronting terror wherever it occurs

Frank Gaffney: No 'need to know'

Amity Shlaes: Do not disturb the profit-sharing revolution

Betsy Hart: Waiting to hear the outrage

Linda Bowles: Quarantine people of faith? (OUCH!)

Chris Matthews: Cape of Good Hope

Cal Thomas: Is Enron 'Bush's Whitewater'?





[ W O R T H 1 0 0 0 W O R D S ]

Mallard Filmore

Wayne Stayskal

Bob Gorrell

John Deering

Mike Shelton

Michael Ramirez

Jack Higgins

Gary Varvel

(Att. working columnists and editorial cartoonists: Think you have what it takes to be featured on JWR? Drop us a note. And readers: We're always open for suggestions!)



[ F A S T P O L I T I C S&nbsp ]








require ("t-ssi/rtorah.html"); ?>